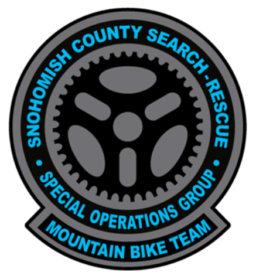 About
The SCVSAR Mountain Bike Team gives our SAR organization the ability to quickly cover ground where other mechanized vehicles may not be able to go. In searches where a subject is located on or near a trail that can be navigated by bike, we can often locate a missing person faster than a standard ground team.
The Mountain Bike Team can also repeatedly cover a trail faster than a team on foot. This is useful for containment purposes, and for subjects who may be wandering within the search area. We can also be used to resupply other ground teams on extended searches, to transport information for verification and we can expedite the response of advanced medical personnel should a subject be located and need medical care. An e-Mountain Bike equipped team enhances these benefits not only by a reduction in time to reach the subject but more substantially by allowing the responder to conserve energy for off-bike SAR duties, should they also become required for the mission.
Snohomish County Volunteer Search and Rescue (SCVSAR) was formed in 1958. On August 22, 1967 we were incorporated in the state of Washington and shortly thereafter granted non-profit Status (501c3).
We are an all-volunteer organization with roughly 300 members from all over Snohomish County. Our skills include first aid/CPR, search and survival, terrain and weather knowledge, map reading and orientation, helicopter rescue operations, search dogs, man tracking, swiftwater rescue, mountain climbing skills, operation support and much more.
The volunteers spend an average of 9,000 hours on more than 120 missions per year. Missions include: lost hikers, children, hunters, climbers, Alzheimer's victims, missing aircraft, river/lake rescues, and assisting other agencies throughout the state.
SCVSAR never charges for its services. Our operation is mainly funded by private donations.
Contact Us
| | |
| --- | --- |
| Team Coordinator | Kevin Andringa |