Remembering Oso
March 22, 2021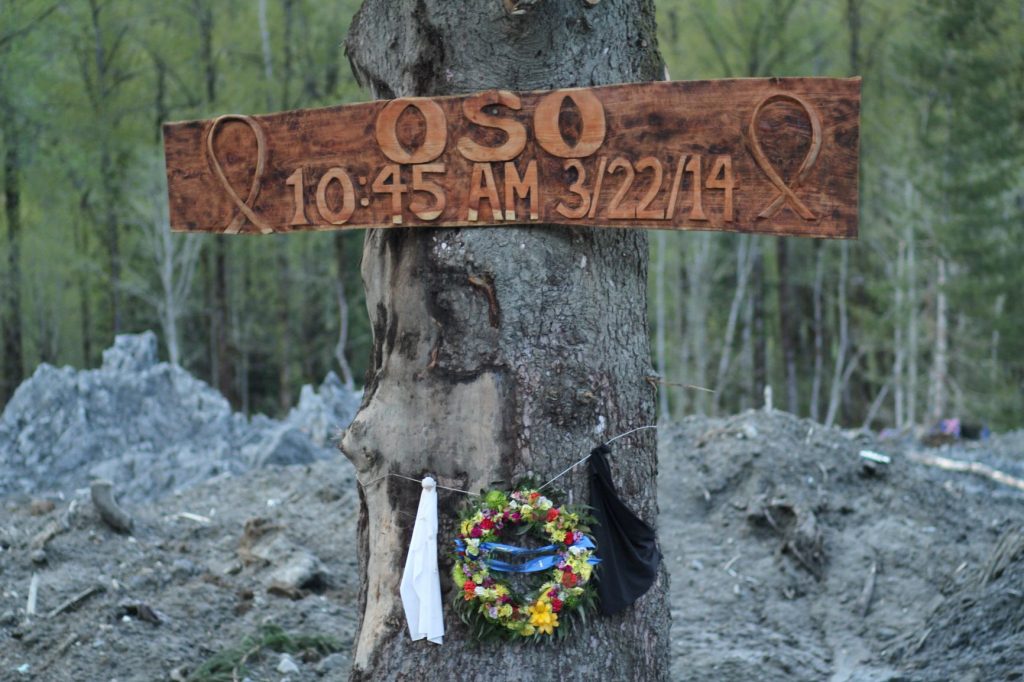 On the 7th Anniversary of the Oso Landslide, we would like to take some time to reflect:
The Oso landslide on March 22, 2014 was, and remains, the deadliest single landslide event in United States history, claiming 43 lives in our local community. The mud, soil and rock debris left from the slide covered an area 1,500 ft (5 football fields) long, 4,400 ft (14.7 football fields) wide and deposited debris 30 ft (2 stories) to 70 ft (5 stories) deep.
For Snohomish County Volunteer Search and Rescue (SCVSAR), the Oso landslide was one mission, lasting 38 days: 130 SCVSAR personnel made 697 responses for a total of 8,455 volunteer hours: more volunteer hours than we normally would have in an entire year of missions.
Our Operations Support Unit (OSU) and our Helicopter Rescue Team (HRT) were activated for the entire 38 days. They were tasked with supporting the airspace in and nearby the slide area as well as maintaining a hoist-capable helicopter with an EMT and/or Paramedic ready to support the hundreds of onsite workers at the Slide Area. Our K-9 Team, Swiftwater Rescue, 4×4 and Ground Teams also provided significant support throughout the 38-day mission.
SCVSAR currently has over 200 active volunteers on-call, 24-hours a day, to assist with emergencies and disasters in Snohomish County, including locating missing children, saving injured hikers, and performing rescues and recoveries during storms, floods and other natural disasters like the Oso catastrophe. SCVSAR is a non-profit 501(c)(3), serving all of Snohomish County and its 830,000+ residents. They are often called upon to assist other counties as well.
Every member of SCVSAR is an unpaid volunteer. Not everyone can put in the time to become a Search & Rescue Volunteer, but many people who love the outdoors can financially support the people who will drop everything they are doing to help others in need, or in the worst case, to bring closure to a family by helping recover their deceased loved one. Someday, the mission could very well be for you or for someone you love.
Please consider making a tax deductible donation to SCVSAR this year, and consider making your gift an annual donation. Know your dollars are going to a great cause; know your funds would be carefully and thoughtfully allocated to where they are most needed; and know you're making a tremendous difference to local families in our community.
"THAT OTHERS MAY LIVE."