Snohomish County Volunteer Search and Rescue and HRT Provide Mutual Aid to Injured Kittitas County Hiker
October 31, 2018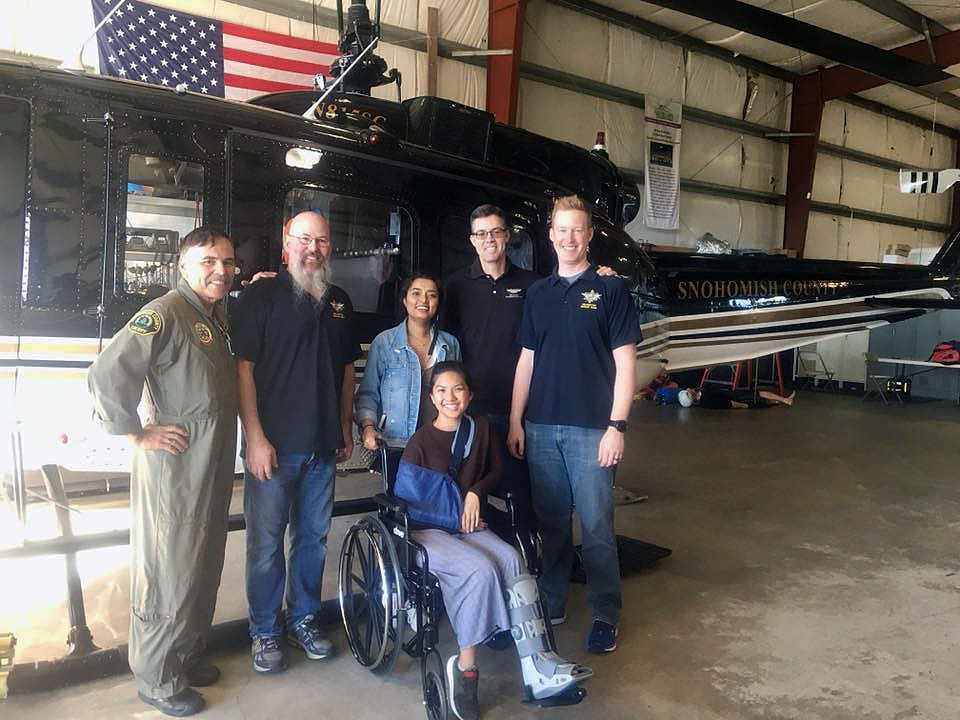 On September 4th, Jocelyn and Keshala were hiking in the wooded hills near Rachel Lake in Kittitas County. Jocelyn slipped on the trail and fell, landing fifty feet below at the base of a small waterfall. Keshala scrambled down to reach Jocelyn, who was unconscious, bleeding and partially in the water. Keshala pulled Jocelyn from the water and, with no cell phone service, she ran down trail looking for reception. During her descent, Keshala came upon another hiker who activated his Personal Location Beacon (PLB). The hiker went with Keshala to assist Jocelyn until more help arrived.
Members of Kittitas County SAR, Kittitas Medic One and Snoqualmie Pass Fire hiked in. They provided initial care, including getting Jocelyn on a backboard and placing IVs. The initial examination confirmed she had sustained multiple critical injuries. Since hiking out, even with a wheeled stretcher, would take hours, Snohomish County's Helicopter Rescue Team was called to help.
The crew of Snohomish County SnoHawk 10 hoisted Jocelyn 150 feet through a clearing in the trees. Jocelyn received additional medical care during the thirty-minute transport to Harborview Medical Center in Seattle. Thanks to the speedy transport by Search and Rescue and excellent medical care at Harborview, Jocelyn is now out of the hospital, recovering well, and back in classes at college.
In our daily lives, we take for granted calling 911 and having an aid car there to help us in less than twenty minutes. In the wilderness, however, help is typically hours away, which is precious time when getting someone to hospital. Trained SAR rescue teams and Fire teams need time to reach an injured person. A helicopter with a trained rescue team are, many times, the last resort to save someone. Even then, if the weather is bad, the helicopter isn't able to fly, and the ground teams are essential.