Meet Our Swiftwater Rescue Team
October 30, 2017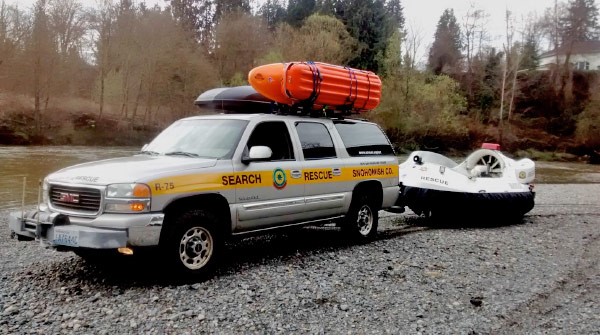 Among our other technical rescue specialties, SAR has a dedicated team that is trained and equipped to perform searches and rescues in our hazardous water environments. Waterways in Snohomish County are scenic destinations that offer excellent recreation opportunity, and are critical to the environment. But water features can be as dangerous as they are magnificent.
The Snohomish County SAR Swiftwater Rescue Team is trained and equipped to accomplish search missions and conduct rescue missions in, around and under our area waterways:
• Puget Sound shoreline and tidal areas
• Arterial river systems (locally Skykomish, Snohomish, Stillaguamish & Sauk)
• Dozens of large and hundreds of smaller tributaries
• Frontcountry and backcountry lakes in their hundreds
• Technical watercourse/waterfall terrain (typically involving rope access & transport)
Like other elements of Search & Rescue, Swiftwater Rescue is on call 24/7. The Swiftwater Rescue Team is made up entirely of volunteers who dedicate considerable time and effort to being well trained and equipped so that we can perform our rescue mission when called upon to help others in our community. In addition, our team is a critical component of area emergency response during flood conditions.
The nature of water rescue is that we must train in the same hazardous environment in which we work – there is no such thing as completely safe swiftwater! High level of hazard, widely varied conditions, and perishable skills demand frequent training both for effective rescue and to keep our rescuers safe. As a small team that trains together frequently, we become confident placing our lives in our teammates hands. This makes us both safe and effective when its mission time.
Learn more about the Swiftwater Rescue Team at https://scvsar.org/srt/.