My Mountain Rescue
October 30, 2017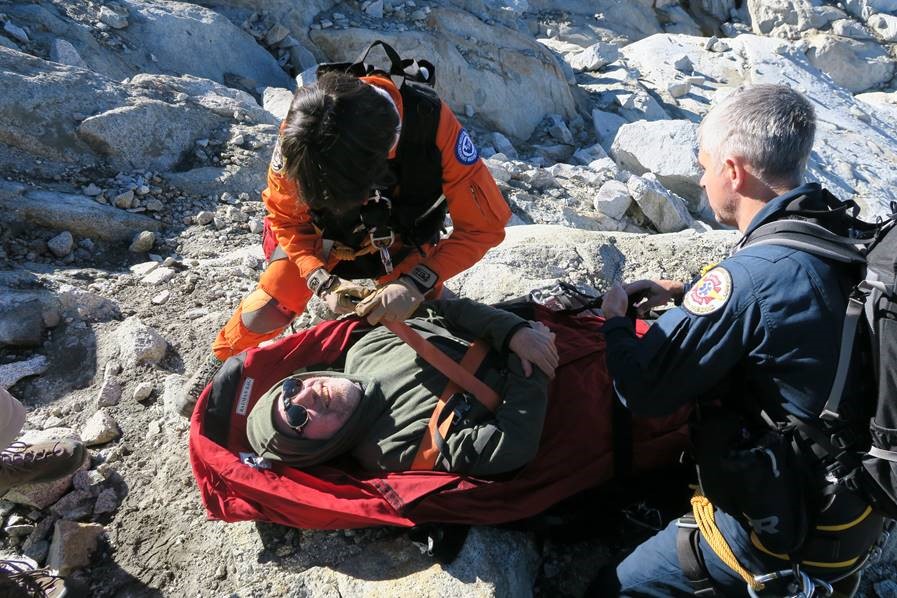 Along with three friends, all of us but one, retired physicians, I hiked into the Enchantments via the Snow Creek route where we spent the night at one of the lower lakes in the area. We awoke to a beautiful morning and decided to hike up Little Annapurna, choosing a route off trail which appeared to be an easy hike.
As we walked along, boulder to boulder, I misjudged a step onto a rock in a shadow, made even darker by the sunglasses I was wearing. The rock had more of an angle than I realized and was still wet from the morning dew. I fell forward with my left leg completely extended, catching it on a rock about a foot below. I felt a pop, and it was then, that I knew I wasn't walking out of there.
At this point the pain was manageable but I couldn't bend my leg. We all had two bars on our cell phones but we couldn't call out. Peter took all the cell phones and hiked to the ridge top for better reception.
In the meantime, Gary hiked back to camp and brought my equipment up in case we had to spend the night there. I had food, water and warm clothing plus a sleeping bag.
While Peter was up on the ridge top having no success making a phone call, along came a woman who had better signal on her phone. When they stood on a boulder between two rocks, Peter found he could reach 911 in Cle Elum who was able to send someone out to evaluate the situation. It was determined at this point to call for an assist from Snohomish County Volunteer Search and Rescue to send their rescue helicopter, SHOHAWK 10, as Chelan County does not have a helicopter equipped with the needed hoist setup.
Before too long the helo arrived on scene but was unable to land due to the rocky terrain. While the helo hovered just above the ground, two of the volunteer crew members hopped down to evaluate my injuries and prepare for evacuation.
The helicopter flew down into the valley to land and save fuel while I was evaluated and an extraction plan worked out. With the plan worked out, I was stabilized and packed into a litter for extraction. The helo returned and hoisted up one of their team and then I was hoisted up followed by the remaining team member. Once we were all aboard the helo, we headed to Leavenworth to refuel and drop me off to an aid car.
However, with my medical background I knew that the help I needed would not be available close by. As I knew the helo was returning to its base in Snohomish County, I asked them to take me there. The helo team agreed and I was able to call my wife to meet me there and transport me to my local medical facility. Because of the strong work by my hiking partners and the helicopter crew of Snohomish County Volunteer Search and Rescue, I was out of surgery within 24 hours of my accident.
I am grateful to the SNOHAWK 10 crew and their decision to take me to Taylor's Landing where I could get to much needed medical attention quickly. The surgery was successful and I have recovered full use of my leg. I am now back in the Cascades on weekends, and I spent last month hiking with Peter in the Pyrenees in Spain.
And because of this, I have chosen to support Snohomish County Volunteer Search & Rescue with my regular, ongoing donation. Won't you join me in supporting this wonderful organization that truly exists to help others. It's easy, just go to https://www.scvsar.org/donate/ and signup online.